TRUSTED AMPUTATION ATTORNEYS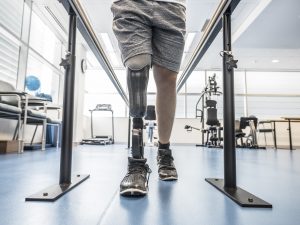 Many of the cases that the firm specializes in can result in trauma that leads the client to suffer an amputation. Whether the cause of the amputation is an acute severing event, compartment syndrome from a crush injury, electrocution, or another means, the lawyers at the firm understand that the treatment, recovery and care needed last a lifetime. In addition to medical costs for prosthetics and never-ending care needs, clients often lose the ability to engage in their prior profession and need vocational rehabilitation and consideration of lost earnings and a loss of future earning capacity.
The firm has the expertise to assist those who have suffered an amputation due the wrongdoing of another and prides itself on the compassion required to aid these clients in their time of need.
Contact Our Firm to Learn More
If there is no recovery, then there are never any fees or costs to you.
Disclaimer: This website is an advertisement as defined by the California Rules of Professional Conduct and the California Business and Professions Code. ELLIS RICCOBONO, LLP is licensed to practice law in the State of California and Federal Courts, where admitted. In certain cases, we have represented individuals in other states/jurisdictions by way of pro hac vice. The content of this website is intended to convey general information. It should not be relied upon as legal advice. It is not an offer to represent you, nor is it intended to create an attorney-client relationship.