Construction Site Accidents
TRUSTED CONSTRUCTION SITE ACCIDENT ATTORNEYS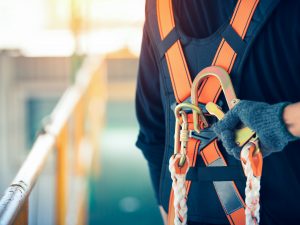 Each year construction site accidents injure or kill thousands of construction workers. According to The Occupational Safety and Health Administration (OSHA), 5,333 workers died on the job in 2019 [https://www.bls.gov/news.release/cfoi.nr0.htm] — on average, more than 100 a week or about 15 deaths every day. About 20% (1,061) of worker fatalities in private industry in calendar year 2019 were in construction – accounting for one in five worker deaths for the year.
Common Causes of Construction Site Accidents include:
FALLS – With a great number of construction work being done at dangerous heights on roofs, ladders, scaffolding, cranes, etc., falls are the leading cause of all construction worker deaths. In 2019, they accounted for 403 of the 1,061 fatalities in construction. Falls were the cause of nearly 38% of all construction worker deaths. At such heights, the chance of negligence is increased including, inadequate safety gear or worker error which could lead to a fall causing serious injuries.
ELECTROCUTIONS – There are often exposed wires, downed power lines, and unfinished electrical systems on construction sites creating dangerous environments.
EXPLOSIONS – Construction sites involve many flammable or explosive materials, including exposed wiring, chemicals, leaking pipes, etc.
FALLING DEBRIS – With so much equipment and materials on a construction site, workers face risks of objects hitting them. Tools or construction materials may be improperly secured or negligently put down. If any equipment and materials fell from considerable heights and it could seriously injure someone below.
MACHINERY ACCIDENTS – Construction sites often have large and/or dangerous machinery, such as cranes, excavators, bulldozers, etc. This kind of machinery is at risk of rollovers, collapse, malfunctions, or collisions with stationary objects or other machinery. Even smaller power tools like power saws, nail guns and drills may cause serious injury. Inadequate safety procedures or negligent operation put people at risk of injury or death.
Workplace accidents are typically covered under workers' compensation benefits. However, if these accidents are due to the negligence or carelessness of a third party (for instance a different subcontractor on the same jobsite) that party can be held liable for damages that are not available in a worker's compensation claim.
When an accident occurs on a construction site the owners, contractors, subcontractors, architects, and manufacturers of equipment can be held responsible for their negligent actions. They can also be liable for the failure to act, take reasonable safety measures or provide unsafe equipment (i.e. inadequate fall protection or defective forklifts, tractors, scaffolding or guardrails)
If you've been seriously injured or lost someone or at a construction site because of someone else's negligence, you have the right to hold the negligent people and companies responsible.
Contact Our Firm to Learn More
If there is no recovery, then there are never any fees or costs to you.
Disclaimer: This website is an advertisement as defined by the California Rules of Professional Conduct and the California Business and Professions Code. ELLIS RICCOBONO, LLP is licensed to practice law in the State of California and Federal Courts, where admitted. In certain cases, we have represented individuals in other states/jurisdictions by way of pro hac vice. The content of this website is intended to convey general information. It should not be relied upon as legal advice. It is not an offer to represent you, nor is it intended to create an attorney-client relationship.