TRUSTED MOTORCYCLE ACCIDENTS ATTORNEYS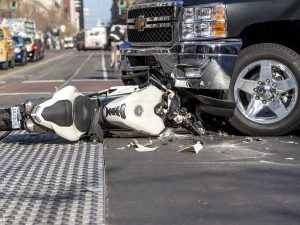 According to the U.S. Department of Transportation, National Highway Traffic Safety Administration, over the last handful of years, more than 80,000 motorcyclists are injured every year while riding, and over 5,000 per year lose their lives. We know that the vast majority of these incidents are caused by drivers who violate the rules of the road, and do not take into consideration the presence of a motorcycles. We also know that sometimes those responsible for maintaining safe roads fail to do so, and that such failures often cause injuries to riders.
Despite the bias that society sometimes holds against those who ride, we have advocated for our clients injured due the negligence of others. For instance, we obtained a $6,000,000 settlement for a client who suffered a brain injury when his Harley crashed after coming into contact with a defect in the road. In another case we obtained a verdict for $2,860,000 when a careless driver pulled out from a shopping mall hitting our client and injured his leg.
Contact Our Firm to Learn More
If there is no recovery, then there are never any fees or costs to you.
Disclaimer: This website is an advertisement as defined by the California Rules of Professional Conduct and the California Business and Professions Code. ELLIS RICCOBONO, LLP is licensed to practice law in the State of California and Federal Courts, where admitted. In certain cases, we have represented individuals in other states/jurisdictions by way of pro hac vice. The content of this website is intended to convey general information. It should not be relied upon as legal advice. It is not an offer to represent you, nor is it intended to create an attorney-client relationship.