TRUSTED TRUCKING ACCIDENTS ATTORNEYS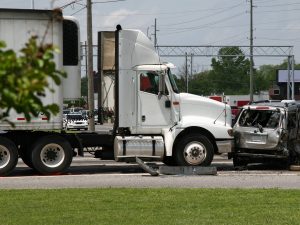 Almost 5,000 people each year are killed in trucking accidents. Trucking accidents have been steadily increasing year after year. According to a study published by the United States Department of Transportation and the National Highway Traffic Safety Administration, semi-trucks were almost 23% more likely to be involved in fatal multiple-vehicle accidents than other vehicles. Given the sheer size, commercial trucks are capable of causing much greater harm than the typical car, and as such their drivers should be specially trained.
One of the many challenging aspects to these cases is determining who is at fault. Unlike a more an accident involving other vehicles, the at fault party in a trucking accident may be more difficult to find. Beyond the driver of the truck, the entity who leased the truck, the trucking company for failing to properly train the driver or even a mechanic who failed to maintain the truck.
Additionally, there are federal regulations (Department of Transportation and the Federal Motor Carrier Safety Administration) in place that regulate the trucking industry. These regulations set standards to help ensure that every truck is safe to be on the road and that every driver is trained to operate a commercial vehicle.
Ellis Riccobono, LLP handles cases for people that have been injured or killed in a trucking collision. Given our vast history involving these kinds of cases, we are uniquely prepared to find all the appropriate defendants and hold them accountable.
Contact Our Firm to Learn More
If there is no recovery, then there are never any fees or costs to you.
Disclaimer: This website is an advertisement as defined by the California Rules of Professional Conduct and the California Business and Professions Code. ELLIS RICCOBONO, LLP is licensed to practice law in the State of California and Federal Courts, where admitted. In certain cases, we have represented individuals in other states/jurisdictions by way of pro hac vice. The content of this website is intended to convey general information. It should not be relied upon as legal advice. It is not an offer to represent you, nor is it intended to create an attorney-client relationship.