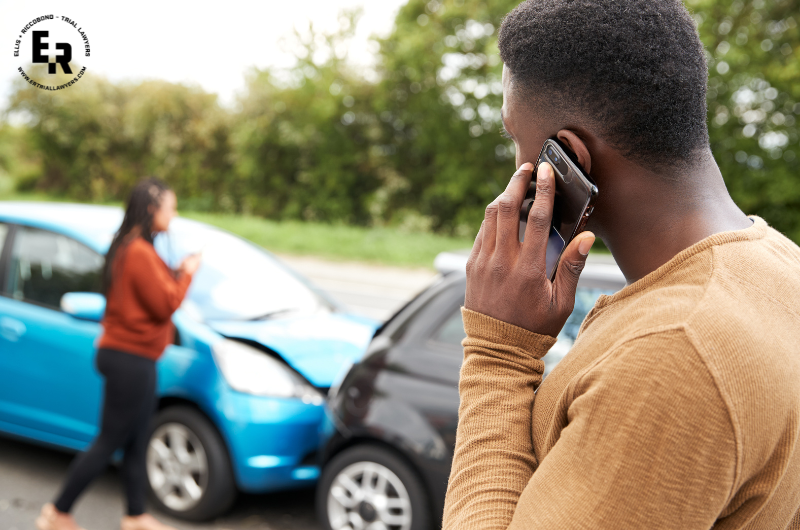 Many of us have experienced the shock of a collision. It happens to even the most cautious drivers. Sometimes it comes with great physical injury and suffering and other times it follows with only property damage. Whether you are in a fender bender or a 10-car pile-up, the protocol is nearly the same. And the question that usually follows is always "What do I do now?"
The immediate goal is to move to a safe location. Although it is often thought to keep your vehicle in the exact resting position after the collision to preserve evidence, you may be at risk of getting into another collision. If your vehicle is drivable, move to a safe location.
The next step is to make sure that everyone involved is physically ok. Then you should call emergency personnel to report the collision and to come to the scene. Police officers will do an accident investigation and make sure paramedics are called to provide appropriate medical treatment.
After you have called emergency personnel, you should identify all parties involved and exchange information, such as name, contact information, insurance information, etc. If possible, you should take pictures with your phone of the other driver's license, registration, and insurance information, to document the collision. If possible, take photographs of the scene of the collision as well as any physical damage to the vehicles including the license plate and VIN of the involved cars.
Be sure that you are in a safe location when you are taking photographs, talking to other drivers or witnesses before you engage in conversations.
When is the Right Time to Contact Legal Assistance?
If you have significant damages, you should speak with an expert attorney right away. They can spot issues that might not be obvious and save you much distress and loss. They will instruct you on how to make an inventory of what was lost. They will know insurance law and how to present your damages in a manner that will likely achieve a much more favorable settlement.
In some circumstances there could be factors that contributed to the collision that you may not have been aware of. For example, defective road design, inadequate barriers, shoulder and/or drainage defects, inadequate road maintenance, missing or insufficient signage, missing or defective guardrails, inadequate traffic control, inadequately marked construction zones, etc. In such cases it is extremely important to contact an attorney quickly as the time period to file a government claim form in California is only 6 months from the date of the collision.
Furthermore, a defective vehicle can lead to much more significant injuries in a collision. Approximately,13% of all automotive accidents are the result of mechanical failures. An automotive defect can be undetected during the manufacturing process. Some vehicles have inherent faults that may not be uncovered until a collision. Some common automobile defects include airbag failures, seatbelt failures, seat-back failures, rollovers, roof crushes, etc.
At the end of the day, you have the right to be treated fairly and restored to whole. Our attorneys have the experience and the passion to try to make that happen for you. There is a good chance that you will be distracted by rebuilding what you lost. Most people do not want their lives to be  derailed by filling out repetitive legal papers. The most important decisions that you will have to make are whether to file a claim and whether litigation is necessary– the latter of which is only necessary if the responsible party or the insurance company refuse to be accountable and don't pay your claim. There is a large legal component to this decision, including liability analysis and estimating damages.
If the accident was not your fault, you will have to file a claim with the at-fault party's insurance– if he does not do it himself. However, the other driver's insurance company are not on your side and any information that you give them could be used against you. If the driver was carrying the proper insurance, it will cover damage to your property and your medical bills, up to the legal or policy limits in your jurisdiction.
If you are found to be at fault, you or your insurance company could be asked to pay for the other party's property damage and medical bills. It goes without saying that you should always have the requisite amount of auto insurance coverage. Driving with the utmost caution is also common-sense advice that we should always be exercising.
Should I Get an Attorney After a Car Accident?
You should speak with an attorney right away if you or any parties have significant damages or suffered injuries. We can help with record keeping and communication that might not be obvious and help you with any loss or prevent false reports of damage. Legal professionals can help you  in making an inventory of anything that was lost. They are experts in personal injury law and know how to present your damages in a way that will be more likely to obtain an appropriate settlement. We will look for all available avenues of liability including a dangerous condition of the roadway or any defect in your vehicle.
The experienced attorneys at Ellis Riccobono LLP invite you to meet with them if you have any questions about the information you read above. The experts at our firm have represented a multitude of people who have experienced losses, and we want to make sure that you receive your damages. We have years of experience negotiating with insurance companies and making sure they pay what is due. We are dedicated to ensuring that you will be compensated fully by those that caused the losses that you have suffered. We live and work in Southern California communities and want to be of service to you in a time of need.
Call (424) 901-1202 or email info@ertriallawyers.com today for a free consultation to learn what we can recover for you.